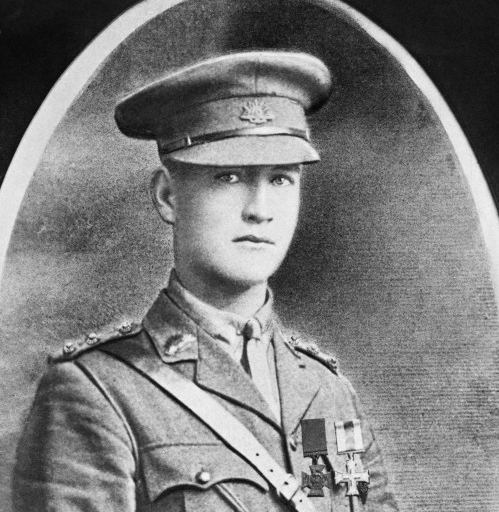 Promises to deliver letters from dying German
AUGUST 2016
The Curlewis community has enjoyed the amenity of Percy Cherry Park near Griggs Creek for over a year. Officially named to commemorate local World War I hero Captain Percy Cherry VC MC, the Park is located not far from where he was born in Drysdale.
In August 1916, Percy Cherry was in command of the 1st Battery of the 7th Machine Gun Company in Pozières, France. On 5 August while defending against a fierce enemy attack, Cherry and a German officer fired at each other from their foxholes. Running low on ammunition, Cherry and the German soldier each stood to get a better firing position, and shot at each other simultaneously. The German officer shot Cherry in the neck, but Cherry managed to mortally wound the German officer. Cherry approached the dying man, who pulled a bundle of letters and photographs from his pocket and asked Cherry to have them returned to his family. Before he died, the German uttered "And so it ends". Cherry was admitted to 44th Casualty Clearing Station and eventually evacuated to England for treatment for his wounds.
Direct descendant and local resident Bill Westhead said the naming of Percy Cherry Park in Curlewis was very important for his family in honouring Percy's courage, helping to heal the generational pain of the family's losses, and understanding the incredible commitment of those who fought in the Great War.
"The ANZACs' courage and persistence in the face of overwhelming odds is exemplified by the acts of courage and sacrifice down the military ages. It is a symbolic day – not for the glorification of war, but for the reverence of the participants," Mr Westhead said.
Percy Herbert Cherry was one of 194 men from Drysdale who fought in World War I, enlisting in the Australian Imperial Force in 1915 and serving in Gallipoli. He distinguished himself through his bravery, intelligence and "tactical eye," deploying weapons and men to support neighbouring units, including British troops in several conflicts. He was rapidly promoted, rising from Quartermaster Sergeant, company Sergeant Major, Second Lieutenant and then Lieutenant in August 1916.
Cherry's Victoria Cross was presented to his father by the Governor of Tasmania, Sir Francis Newdegate, in Hobart during October 1917. In 1932, a photograph of Cherry was unveiled at the headquarters of the 26th Battalion, Australian Imperial Force, at Annerley, Brisbane. His Victoria Cross is currently on display at the Australian War Memorial along with his other medals. From Wikipedia