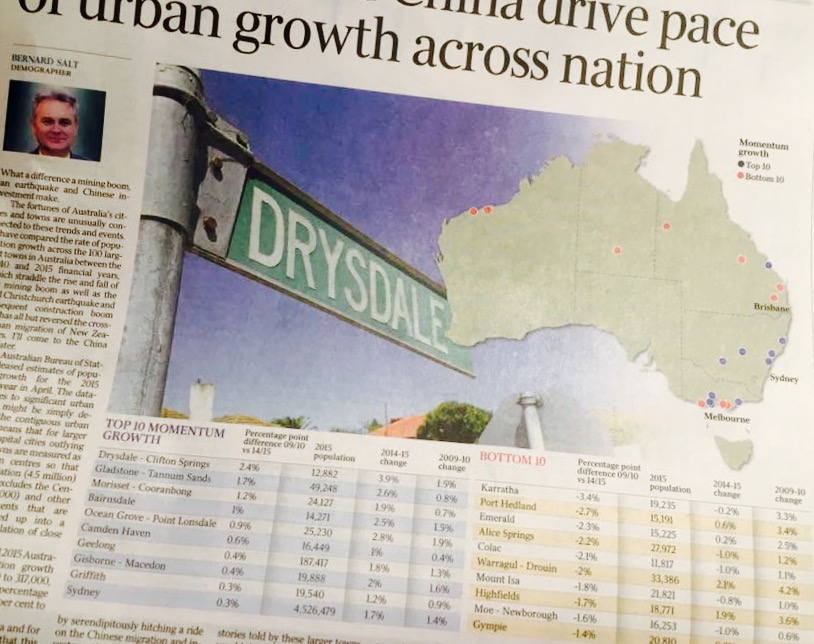 Drysdale-Clifton Springs hit the news last week confirming that the ever-growing Bellarine Peninsula really is the place to be.
Everyone's favourite demographer Bernard Salt has analysed recent growth trends and how the momentum of population growth has changed in Australia since 2010.
Comparing the rate of growth across the 100 towns in Australia during the 2010 and 2015 financial years, Drysdale / Clifton Springs (Curlewis) topped the list.
With a growth rate jumping 2.4 percentage points (from 1.5 per cent to 3.9 per cent), it is a strong indication of the increasing popularity of the Bellarine Peninsula as the choice for lifestyle and commuter residents.
According to Bernard, the China migration and investment 'story' is not driving these settlements. It is more likely a demand from commuters and life­stylers, as well as the opening of new land release programs.
We agree that there is a compelling story being told within the Curlewis area and that the commercial investment and business growth opportunity is within Bayview Central Curlewis,
*Bernard Salt, "Seachange and China drive pace of urban growth across nation,' The Australian 26 May 2016